My road to professional photography has led through careers as a forester, as an archaeologist, and as a university professor. I have been photographing since I was a kid. Not until my father became deathly ill, when I was fifty-two years old, did I make the decision to become a full-time artist. I'm still working towards that goal. While teaching at Michigan State University, I enrolled in an excellent photography program at Lansing Community College. In so doing, I discovered that I am an artist.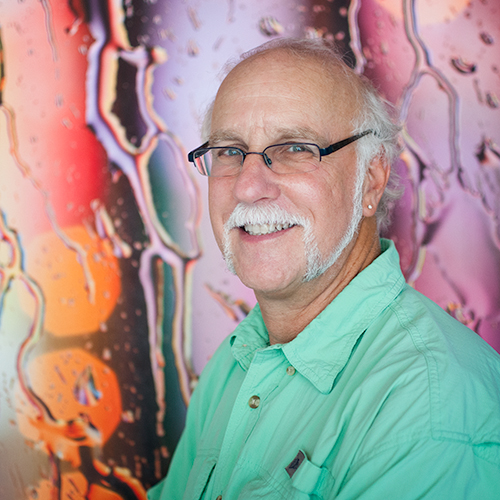 "I am an artist." Such a simple thing to say. Many people declare themselves to be artists. For me, being an artist means that I have an eye for color, line, pattern, texture, tone. I had no idea until I began taking photography classes. For me, being an artist means that I create compelling compositions. Sure, not every image is a winner. That's to be expected. But there are winners. I can compose photographs and compose them well. I never knew until I began taking photography classes. For me, being an artist means knowing why I photograph what I do. For me, an artist seeks to communicate concepts, to convey feelings, to speak to others through a visual language of their own.
I did not learn this when I first started taking photography classes. I learned it years later from a man who would become my mentor: Pierre Dutertre.


I met Pierre when I was serving as a docent at the Florida Museum of Photographic Arts. He taught classes there. At the time, I was a landscape photographer. I photographed them as part of my jobs as a forester and archaeologist – for scientific reports I wrote. I also photographed them for pleasure. Pierre taught a class called "Focus on Your Talent." My interest piqued, I enrolled. He gave me assignments requiring me to photograph, not landscapes, but rather abstractions. At first, doing this was hard for me. Abstractions demand a certain way of seeing. I had to grow into it. I had to relax into it. Soon enough, I found that I love creating abstractions. I love their refined sense of line, form, color, and tone.

Pierre and I remained in touch. Several years passed. Then he challenged me to figure out why I photograph what I do. I'd like to tell you that I came up with the answer immediately, with the snap of my fingers. But that wasn't the case. Over a year was needed for me to achieve enough insight to understand what he was trying to teach me. I finally realized that my landscapes and abstractions are expressions of my need to find beauty amidst the chaos and pain of life. Sounds dramatic, I know. But for me, it's true. It's probably true for many people.
I am a photographer, a writer, a teacher. One of my landscape images earned the Zimmerman Visual Arts Award at Lansing Community College. The college purchased the photograph for its permanent collection. I have exhibited my landscapes and abstractions in galleries and museums. I'm currently writing a book about grief and loss – probably two books – which combines text and image.
I've earned two master's degrees. One is an M.S. in Resource Management. The other is an M.A. in Comparative Religious Studies and Mythology. My doctorate is in Native American Religious Traditions. I have taught at universities including the University of California, Santa Barbara, the University of Montana, and Michigan State. I am currently teaching at Henry Ford College in Dearborn, Michigan.
I am an independent photography instructor. One of my favorite classes guides a small group of committed students through explorations of why they photograph what they do. They are creating professional-quality portfolios. It is my honor and pleasure to be their mentor.
I also offer unique travel photography tours to beautiful locations in the United States and some abroad. New Mexico, California, Arizona, and Maine are primary destinations, all in the season showing them at their best. Workshops are planned for France, Ireland, Spain, Portugal, and Japan.
Patterned after a conference I designed and implemented (with the help of others) at Henry Ford College on domestic violence and sexual assault, with the keynote address given by Congresswoman Debbie Dingell, I am developing workshops in concert with fully licensed and highly experienced counselors to provide survivors of trauma the chance to find pathways to healing through art.
I live in Ann Arbor, Michigan.